Role
FINSOM's Director is also the "Ombudsman". It has the right and the duty to manage the affairs of the ombudsman office independently, without instructions from third parties, and to represent it in accordance with the law, international standards and the articles of association.
She can also conduct Commercial and Workplace Mediation procedures.
Independence and technical skills
The Director is independent of the affiliated companies, their branch organisations and the General Assembly.
She cannot deal with procedures that concern her or a close natural or legal person.
She has extensive practical experience in the financial sector and the technical skills required to develop and administer a new specialised commercial and workplace mediation system.
The Director is supported by a team of Mediators and Experts. 
Appointment and supervision
The Director shall be appointed by the General Assembly. According to art. 84 FinSA, the appointment is subject to the approval of the Federal Department of Finance (FDF).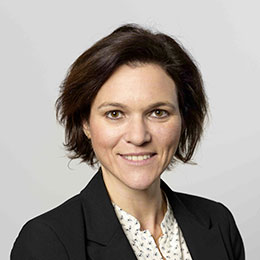 Director, Ombudsman

Jennifer Lygren holds a university degree in business administration and a masters degree in economic crime investigation. She brings over 15 years experience in the Swiss financial sector and excellent knowledge of banking, financial services and trusts. Prior to taking over FINSOM' s management in 2018, Ms. Lygren held positions in internal audit and operational risk management at Swiss and foreign financial institutions.