Financial Services Ombudsman
"The ombudsman should be (and also be seen to be) as independent and impartial as a judge – as well as having the necessary legal and technical expertise to resolve financial disputes authoritatively. This needs to be reflected in the appointment and governance arrangements" – World Bank, 2012
Role
FINSOM's Director is also the "Ombudsman". It has the right and the duty to manage the affairs of the ombudsman office independently, without instructions from third parties, and to represent it in accordance with the law, international standards and the articles of association.
She can also conduct Commercial and Workplace Mediation procedures.
Independence and technical skills
The Director is independent of the affiliated companies, their branch organisations and the General Assembly.
She cannot deal with procedures that concern her or a close natural or legal person.
She has extensive practical experience in the financial sector and the technical skills required to develop and administer a new specialised commercial and workplace mediation system.
The Director is supported by a team of Mediators and Experts. 
Appointment and supervision
The Director shall be appointed by the General Assembly. According to art. 84 FinSA, the appointment is subject to the approval of the Federal Department of Finance (FDF).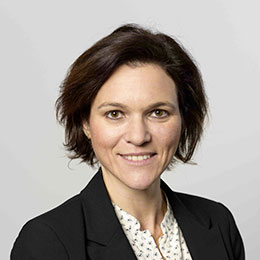 Jennifer LYGREN
Director, Ombudsman
Jennifer Lygren holds a university degree in business administration focused on marketing and a Master's degree in Economic Crime Investigation. She has 15 years of professional experience in the financial sector where she specialised in governance, risk management and internal control, in particular of operational and regulatory risks. She has worked for Swiss and foreign financial service providers gaining extensive experience in complaints management and independent evaluations, in addition to excellent knowledge of financial services and instruments, business practices and the regulatory and supervisory framework of the financial sector. Since 2014, she specialises in mediation in financial services and labour relations on a technical and organisational level. Jennifer Lygren has served as FINSOM's Director since 2018.